[SMACK A BETCH]
ALRIGHT, SO DOES ANYONE ELSE THINK HAMLET IS FAR TOO PASSIVE IN THE PLAY?
FOR SERIOUS; IF I WENT THROUGH ALL THAT SHIT, I WOULD NOT BE ONLY LOOPY, BUT I'D WANT TO SMACK A BETCH.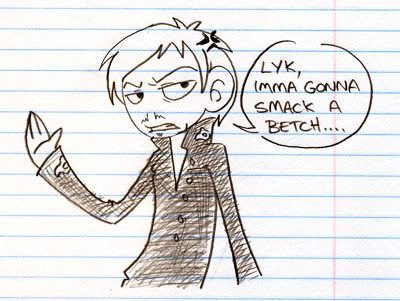 I DREW THIS MASTERPIECE ON
LINED PAPER
THE FINEST ART PAPER AVAILABLE ON THE MARKET.
THIS BELONGS IN A SWANKY ART GALLERY, Y/Y? CAN YOU JUST SEE HIS MADNESS? 8D
Comments {4}